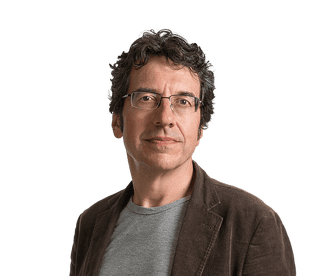 THE PREVAILING IDEOLOGY is so overpowering that it's rarely named. So suggests George Monbiot in the UK Guardian. His recent column must have struck a chord, since it has been shared online 233,000 times with comments closed after 3964.
Monbiot identifies the "coherent philosophy" as neoliberalism.
According to the headline, neoliberalism is "the ideology at the root of all our problems", and his new book How Did We Get Into This Mess? collects earlier columns that survey the devastation.
In Monbiot's account, neoliberalism portrays "competition as the defining characteristic of human relations". Among consequences, competition relies on quantification and ranking, which lead to a "stifling regime of assessment and monitoring, designed to identify the winners and punish the losers".
As "something admirable" about the neoliberal project, Monbiot nominates the patient organising of a network of thinkers and activists, ready with a clear plan when the inadequacies of Keynesianism became apparent in the 1970s.
In turn, John Maynard Keynes made a comprehensive economic theory available when laissez-faire economics led to catastrophe in 1929.
From the success of both Keynesianism and neoliberalism, Monbiot draws a lesson that "it's not enough to oppose a broken system. A coherent alternative has to be proposed."
And so what is neoliberalism's replacement? It's not Keynesianism, which recommends stimulating consumer demand to promote economic growth, and consumer demand and economic growth are the "the motors of environmental destruction".
Disturbingly, Monbiot finds that the "left and centre have produced no new general framework of economic thought for 80 years." So, he issues a call:
For Labour, the Democrats and the wider left, the central task should be to develop an economic Apollo programme, a conscious attempt to design a new system tailored to the demands of the 21st century
This is where I step in.
I have come up with a general framework of economic thought. Taking an embarrassing number of years, the task has indeed felt like an Apollo program.
Seriously, I know a lot about neoliberalism, and have a sound response – to the extent of 100,000 words. If I haven't posted on this blog for a while, it's been putting the finishing touches to a complete draft.
Where to begin? The working title: Gastronomics: Because Meals Matter More than Money.
The book is a critique of not merely neoliberalism, because neoliberalism essentially institutionalises the narrow assumptions of mainstream economics. These axioms have become so ingrained that even leftish political philosophers and economists have difficulty breaking through the illusion, and my list of offenders spreads beyond the familiar Hayek and Friedman. As Monbiot ruefully observes: "We are all neoliberals now."
Even Monbiot under-estimates neoliberalism's capture of ideas, so that, to most of us, economics can seem to be something they do, when it is potentially the most caring of all disciplines.
Not that I have invented much. Instead, I offer the twin advantages of persuasiveness and surprise – by bringing a gastronomic focus to reasonably established economic and social theory, political philosophy, and intellectual history.
The answer to market fundamentalism is not some other fundamentalism, but is intrinsically complex. Not that this prevents clarifying the meanings to words and re-formulating basics.
To encapsulate the answer in one word, liberalism. Liberalism, not neoliberalism.
This is the liberalism of Hobbes, Locke, Smith, Brillat-Savarin and many others who used to know that meals matter.
Now to find a publisher …
POSTSCRIPT: Columbia University Press published Meals Matter: A radical economics through gastronomy in 2020. For how to purchase, see elsewhere on this blog.